Paramedics – Worth Their Weight In Gold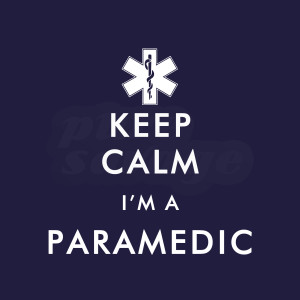 Early this morning I was rattled out of my bed by someone pounding at my door. The first knock I ignored not knowing there was an emergency, and blaming the commotion on an overly exuberant Fed Ex guy delivering my dog's meds. When the second round of knocking came I jumped out of bed and headed for the door. "My daughter, Kerry needs help, can you come help?" I bolted across the shared terrace and found my new neighbor in distress. I called 911.
Within a few minutes it was like several stretch limousines full of paramedics arrived. I counted six coming up the stairs and filing into the apartment. As I showed them to the bedroom they split off to do different jobs. One came with me and Kerry's Mom to ask medical questions that their patient couldn't answer for herself, and the others checked vitals and summarized the situation.
It was necessary to get Kerry to the hospital, and the mode of transport out of the condo was decidedly mobile chair down the 2 flights of stairs followed by a stretcher into the ambulance. Watching the paramedics in action up close gave me the feeling that these capable – in this case – men were lifesavers in the truest sense.
Kerry's Mom was left behind with me, and as I write this we await news of Kerry's conditions. We took care of business – got the dogs walked and fed, Mom ate breakfast and now we wait. Mom – Angie, has beginning dementia and she is beside herself with worry. Calming her down might be easier if we had her medications, but it appears the paramedics took her meds from the dresser thinking they belonged to Kerry, because they are no where to be found at this point.
Update – 5 Hours Later
Kerry is passing a kidney stone and will be alright. It's a hugely painful ordeal, but not life threatening. The paramedics did not take the medication from the dresser with them after all, but rather Angie hid them. Dementia has its funny ways about it.
What do these capable men and women earn for coming to our rescue?
The annual salary for a paramedic is derived from a number of components. With an hourly pay rate between $15 to $36 it's all over the map. The pay scale is dependent on a number of factors. The more education someone brings to the job along with the number of years experience, plays a big role in the base pay.
Other factors include company size, industry and state. At this writing, the highest paid salary goes to paramedics in Nevada and Hawaii presently topping out at $38.85 per hour, and from the last census the lowest salary range per state goes to Oklahoma at $15.77 an hour. Being a paramedic or emergency medical worker could earn you a decent middle class income in most states. There are job openings in every state, and if your desire is to become an emergency response worker, you will find work.
Working in this field requires more than just medical expertise. If you thrive under pressure and think clearly with focused attention, then this could be a rewarding career. The hours can be long and boring, but you have to be ready for all hell to break loose at any given call. Several slow days in a row cannot constitute lack of preparedness for when the time calls for it and the inevitable dire emergency comes. There is no such thing as "down time" when on the job.
One in three paramedics work overtime to earn more cash. They can also qualify for bonuses depending on the company policy or the outfit they are employed with. The bottom line – you have to love the work with a caring compassion that hovers over your medical expertise and alert mindset.
We were grateful for the care Kerry received today, and take comfort in knowing that we are in good hands with the paramedics we have in our community – ready, willing and capable of helping in a time of need.