Community Paramedics
B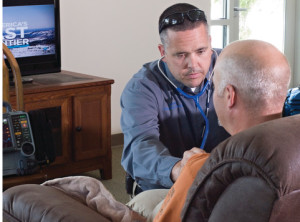 eing in the medical field calls for a unique type of individual. Not everyone is cut out to deal with life and death situations on a daily basis. Thank God for the men and women who have the calling to be there for those of us who can't even stand the site of blood.
There is undying admiration for all of these folks, but quite a few go over and beyond what is asked or expected of them. Some work in programs that cater to the needs of individuals that require a little extra.
One such individual is Shane Cooper. Shane works as a community paramedic preventing health care emergencies, not just showing up when one occurs. The small town of Everett, Washington is lucky to have the devotion and care that Shane brings them. As a community paramedic Shane has a list of residents that he checks in on regularly.
His purpose is to keep his clients out of emergency situations by ascertaining their prevailing state of health. He checks to be certain they have medical supplies and other equipment they need to manage their disease or disability. Once a week he may show up in person or call the resident to get an idea of how things are going.
Along with his medical training, he has an intuitive sense that kicks in after meeting someone in person for the first time. This helps him determine whether an in-home visit is required on a routine basis. Some folks don't like to be fussed over or prefer their privacy, but Paramedic Cooper makes each person on his list feel comfortable, and all are happy to see him when he arrives.
A day may consist of visiting 10 people from his list of over 200. Cooper works with physical as well as mental issues that could possibly constitute emergency calls. A good deal of his work is making sure people are taking their medications as instructed. A simple phone call can save his client a trip in an ambulance later down the road. He also connects those in need with social agencies and medical help.
"An ounce of prevention is worth a pound of cure." Benjamin Franklin
The community paramedic program seems to be working, as emergency calls are down from where they were a year ago. Keeping people from falling into neglectful habits, knowingly or unknowingly, has saved the town of Everett in medical costs. With a drop of 37% over the first 6 months of the program, statistics showed that more than two-thirds of those participating used emergency medical services less often, and half made fewer visits to the emergency room.
Paramedics like the fact that there is nothing boring about the work they do, and God knows there is little that is routine in a day of a paramedic. As a community paramedic, Shane has a schedule, but still never faces an ordinary day. His biggest reward comes from helping people in high need avoid having to go into the hospital. He does that everyday. If help comes in the form of prevention rather than rescuing the satisfaction is even greater.
Shane's calls are not all business – medical business that is. His visits might involve a conversation about old cars, or the new restaurant in town, or the latest grandchild to hit the scene. He makes the appointment into a bit of a social call since many of his clients are home bound and love the company. Cooper says a little conversation is good medicine.
Paramedics are one of the lifelines of the medical world. They are often behind the scene and only there when you need them. Others make it a point to be more visible. Programs that offer community paramedics give high levels of satisfaction to the client, the client's family, the community and of course the paramedic.
Thanks go out to Shane Cooper of Everett, Washington and all the paramedics who love what they do, and are giving the gifts of well-being to so many.
Please leave a comment below. What has been your experience with the paramedic community in your area?